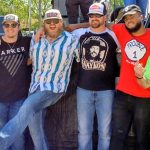 April 28th marked the annual 106.9 The Ranch Battle of the Bands at Derrick Days in Corsicana, TX and we are proud to congratulate Jon Stork of Houston for the win!
Jon and his band, with a brand new drummer, vied for the title against Two Gun Hattie from North Texas, and Huser Brother Band out of Waco.  Judges Dave Smith, Tammy Millspaugh, and Dillon Steen turned in tally sheets with a close contest, and Jon Stork came out on top by a narrow margin. Sarah from The Get Up Morning show was joined on stage by her morning show co-host and emcee of the day long music event – Carey Dean – and other 106.9 faces to announce the winner at 3pm. Jon Stork's prizes include opening our music festival in October – Ranch Bash – a gig at Sloppy Bottom Park in Streetman, and bragging rights for the year!
The Battle of the Bands was joined by other musical acts on the Derrick Days Main Stage, with a total of six bands in 6 1/2 hours, and one surprise unscheduled performance for a show closer.
106.9 The Ranch would like to thank our title sponsor – Van's Custom Jewelers
The Battle of the Bands, and Derrick Days Main Stage music was also brought you in part by: