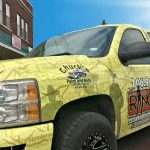 Look for 106.9 The Ranch as we hit the road passing out great prizes and sharing our love of Texas Music. Here's where you'll find us next!
SATURDAY OCTOBER 13 – CLAYTON HOMES – CORSICANA, TX 11AM-1PM
Take a tour of the homes and enter to win fabulous gifts at Clayton Homes!!
SATURDAY OCTOBER 20 – RANCH BASH – PANTHER ISLAND PAVILION – FT WORTH
It is our annual music festival and the largest one day music festival in Texas!!!  Get your tickets at www.ranchbash.com or listen to win!!!
TUESDAY OCTOBER 30 – FIRST STATE BANK  – CORSICANA, TX 11AM-1PM
The new full service branch of First State Bank is having a grand opening, and 106.9 The Ranch will be there broadcasting live!
WEDNESDAY OCTOBER 31 – BOO ON THE BLOCK WITH CORSICANA PEDIATRIC DENTISTRY – CORSICANA, TX 3PM-6PM
Happy Halloween! Join Corsicana Pediatric Dentistry and 106.9 The Ranch in Downtown Corsicana for Boo on the Block!!
The Ranch on the Road Truck is powered by: