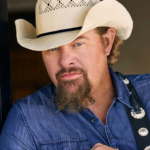 Country music singer Toby Keith was diagnosed with stomach cancer last fall, the artist revealed in a social media post on Sunday.
Keith revealed his condition on a Twitter post, the first time the 60-year old musician had publicly acknowledged his health battle to his fans. He has been privately undergoing treatment.
"I've spent the last six months receiving chemo, radiation and surgery," Keith wrote in the post. "So far, so good."
"I need time to breathe, recover and relax," he added, saying he will see his fans sooner than later.
An upcoming scheduled July 28 performance at the Ohio State Fair has been canceled, per a tweet from the fair organizers. Keith's most recent album, "Peso in My Pocket," was released in October of last year.