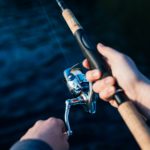 A Texas Fisherman recently caught a pending Texas and world record-breaking 137-pound cubera snapper while freedive spearfishing in Port Aransas.
On June 3. Port Aransas Fisherman's Wharf posted about Braden Sherron's epic catch on its Facebook page. "We are so thankful he chose Port Aransas Fisherman's Wharf to weigh and take pictures of this monster of a cubera snapper," the wharf's post stated, while showing off  a photo of the massive fish.
Once submitted, pending records typically take two weeks to become official.
Cubera snappers are the biggest of the snapper family.
The Texas record, set in 1983, currently sits at 131 pounds, according to the Texas Parks and Wildlife Department online records. The all-tackle world record catch was made in 2007, coming in at 124 pounds as recorded by the International Game Fish Association online records.