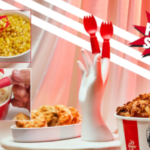 If you listened to "The Ranch Morning Show With Keith James" this morning, then you heard Keith and Guy talking about KFC's new Finger Sporks.
Sporks became part of the KFC dining experience in the early 1970s when Colonel Harland Sanders made the novelty item the utensil of choice for the Kentucky Fried Chicken restaurants.
The new smaller version, called the KFC Finger Spork, was designed to optimize consumption of the restaurant's various sides.
KFC even came up with a 1990s-style infomercial to show hungry diners how to use the new item:
For KFC Fans wanting a KFC Finger Spork, they can order a KFC Sides Lovers Meal via the KFC mobile app, visit KFC.com, or visit participating KFC locations starting June 21 through July 12 to receive two free KFC Finger Sporks (while supplies last).