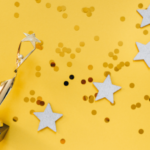 106.9 The Ranch congratulates Amanda Stauffer of Corsicana, our chosen 106.9 The Ranch Ultimate NASCAR Playoffs Experience Winner.
Amanda won tickets to both the Andy's Frozen Custard 300 xFinity Series Playoff Race this Saturday, September 24 and the AutoTrader Echo Park Automotive 500 Cup Series Playoff Race this Sunday, September 25.
Amanda also gets Pre Race Passes which allows her to go on the track and be close to the stage for the Daughtry Pre Race Concert and NASCAR Cup Series Driver Introductions. In addition, Amanda also win a two night stay at the Kimpton Harper Hotel in Fort Worth.
This in going to be a great weekend of up-close NASCAR experiences, and plenty memories to last a lifetime.
Thanks to everyone who called in and qualified! If you didn't win this time, 106.9 The Ranch always has great contests to try for and win in the future.
A friendly reminder to our listeners that 106.9 The Ranch will broadcast the AutoTrader EchoPark Automotive 500 starting at 2 p.m. Sunday, September 25 from Texas Motor Speedway in Fort Worth.