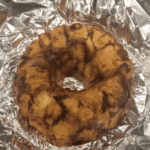 Here we are with another dish the whole family will enjoy and made with plenty of love!  We will start off with doubling my biscuit recipe that was posted a few weeks ago.  You can also use canned biscuits but what kind of fun is that?  It will also turn out differently if you use canned biscuits.  You'll need a bundt pan greased with cooking spray or butter.  Preheat the oven to 350 degrees.
Here is that recipe doubled:
4 cups flour
2 tablespoons baking powder
2 teaspoons salt
2 tablespoons sugar
1 1/2 cups of whole milk (I had to add a bit more so use your judgement)
12 tablespoons unsalted butter; put in the freezer before you begin (I like Kerrygold)
Monkey Bread ingredients:
2/3 cup sugar
1 tablespoon cinnamon
12 tablespoons butter (melted)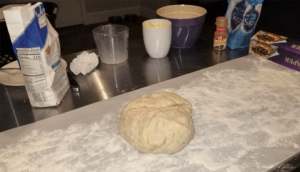 First you want to mix the monkey bread dry ingredients and set aside.  Now mix the dough dry ingredients and make sure there aren't any clumps.  Time to get the butter from the freezer and I used a cheese grater to grate the butter in the dry mixture.  Once you've finished this add the milk.  Mixed well but don't overwork the dough.  Set out wax paper and coat with flour then smack that dough ball baby down on it.  Work the dough with your hands then fold 5ish times and you'll want it about an inch thick.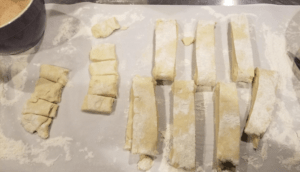 Cut the dough in 1-2 inch squares, roll in the cinnamon and sugar mixture, toss in the bundt pan.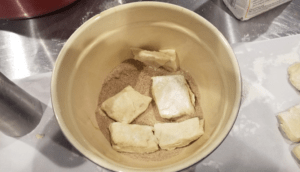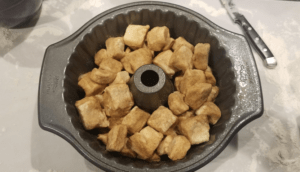 After all the dough is in the bundt pan pour the cinnamon/sugar mixture in a measuring cup add appropriate amounts of cinnamon and sugar until it reach 3/4 of a cup, combine with butter in separate bowl and mix well.  Pour this mixture on top of the monkey bread then I like to jiggle it a little so it seeps in fairly well.  Put in oven and bake for 30 minutes.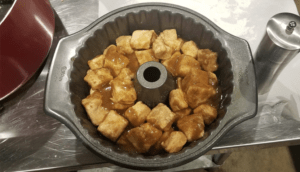 Get a plate that is roughly the same size as the bundt pan and make an "X" with two strips of foil across it making sure there is enough to cover the monkey bread for storage should you not finish it all in once sitting.  No, that's not a challenge.  When the monkey bread is done baking the tricky part is, while still hot, putting the plate and foil on top and flipping the bread out of the bundt pan and onto the plate.  And there ya have it, from scratch monkey bread.