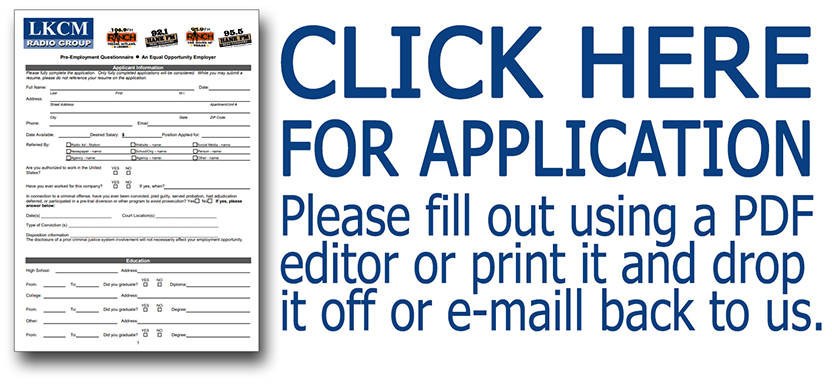 LKCM Radio Group, LP (KFWR, KTFW, KRVF) is an equal opportunity employer. We would like to widely publicize our job openings. Any organization that regularly distributes employment information to job seekers or refers candidates to employers is eligible to receive information about our job vacancies. To receive our listings by fax, e-mail or US Mail, please contact us! Provide us your organization's name, your name, address, telephone number, fax and e-mail address and we'll contact you to confirm the information.
We are always accepting resumes via fax or mail for current and future open positions. Please include a cover letter to introduce yourself, and specify what department(s) you are interested in: Programming, Promotions, Sales, or Business Office.
By e-mail: Subject (Attn: desired department) / jobs@theranchradio.com
By mail: Attn. (desired department) / 115 West 3rd St. / Fort Worth, TX 76102
By fax: Attn. (desired department) / 817-348-8373
OPEN POSITIONS
---
Check back soon for any open positions.
EEO
---
106.9 The Ranch is an equal opportunity employer.