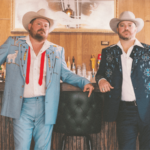 Available May 8th and previewed already by our own Justin Frazell, Hold My Beer and Watch This V.2 from amigos Randy Rogers and Wade Bowen have a great chance of releasing the album of Covid Summer 2020.  Pre-Order HERE.
Not leaning on their own song-writing skills completely, they turned to friends on several tracks.   Released Friday April 17th, "Rhinstoned" is a Ryan Beaver, Ashely Ray, Lori McKenna co-write.
Hopefully, we'll get a Summer name change in the next few weeks,  but until then all we may have is a stiff drink, er beer, our own squared off circle to beat up with pre-sixfoot-approved partner and recorded music, er The Ranch.  This album falls in the 100% No Skip Rule.   Get it.