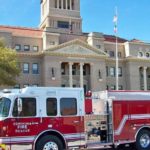 On May 5, 2020 the Corsicana Fire Department and Prosper Fire Department received the award and designation of "Recognized Best Practices Fire Department" from the Texas Fire Chiefs Association Best Practices Recognition Program.
Begun in 2013, the Recognition Program evaluates a Fire Department's compliance with over 117 Best Business Practices for Fire Departments in the State of Texas. These Best Practices were developed by Fire Service professionals to assist agencies in the efficient and effective delivery of service to communities.
These Best Practices cover all aspects of Fire Department management and services including but not limited to Administration and Organization, Emergency Medical Service, Fire Prevention, Risk Reduction, Community Outreach, Safety and Health and Professional Standards and Conduct.
This voluntary process required the department to conduct a critical self-review of the department's policies, procedures, facilities and operations. The department began the lengthy process to become a "Recognized" Fire Department in the Best Practices Program by preparing proofs of compliance for each of the Program's areas of concentration.
Upon completion of an internal review, an outside audit and review was requested. The final on-site review was conducted by trained Fire Chiefs and Assistant Fire Chiefs from other areas of the state. The result of this review was then sent to the Texas Fire Chiefs Best Practices Recognition Board for final analysis and decision to award "Recognized" status.
On May 5, 2020 the departments were notified they had received the coveted "Recognized Best Practices Fire Department" designation. The Corsicana Fire Department becomes the twenty-second department in the state of Texas to achieve this status. Prosper Fire Department is the twenty-third fire department to receive the designation.
The TFCA Best Practices program provides a pathway for a fire department to push its service to a level of excellence that is validated by independent experts. This designation demonstrates to customers of these organizations that their fire department is among the very best in the Texas Fire Service.
The TFCA Executive Board would like to congratulate the Corsicana Fire Department and Prosper Fire Department along with all members of these department for their dedication to the profession in undertaking the Best Practices Recognition Program.
"I want to personally recognize Chief Paul Henley, Corsicana, and Chief Stuart Blasingame, Prosper, for their dedication and determination on improving their departments by participating and implementing Best Practices within their departments.
I'm honored to recognize them as one of the select few in the State of Texas as a recognized Best Practices organization," said Clay Huckaby, President of the Texas Fire Chiefs Association.
The actual presentation of the awards will take place at a future City Council Meetings.
Credit – Corsicana Daily Sun from Staff Reports, May 12, 2020