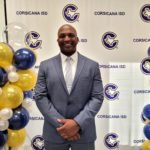 Corsicana Head Football Coach Aric Sardenia was introduced to the community last night at an encore meet and great in the Community Room of Tiger Stadium. Coach Sardenia greeted visitors at the reception as he shared his enthusiasm for being a part of the Tiger community.
"First of all, I'm excited to be here," Sardenia said. "I stand for a lot of standards, the number one being character development. I'm a true believer that you can win when you handle the character of kids and the discipline of kids, so that's what I want to bring here to Corsicana.
Sardenia noted he is already implementing his success strategies for the next football season.
I'm excited about it. We've already put our boots on the ground and already started the process. And our kids are buying into that attention of detail already."
"I'm just excited about that opportunity," Sardenia said.