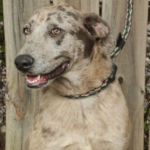 Hickory (D43508) and his two pals Dickory & Doc were picked up in the county by the Sheriff's Department after they decided to play a game of chase with a herd of goats. While they didn't injure any of them, both goats and goat owners weren't thrilled with this uninvited game. So, off to the shelter the dogs went.
We've promised the boys that their next home will keep them properly contained and not allow them to wander into situations that might put them in danger.
Hickory seems to be the more sentient of the trio, Very perceptive to people's moods and energy, he knows just when a staff member or volunteer might need an extra snuggle. He loves to go for walks and would love a new owner who would like his intuitive side.
QUICK PET OF THE WEEK DETAILS
Name: Hickory
Age: 3 Years
Breed: Catahoula/Dane mix
Color: Grey, Black
Size: Large (70 Pounds)
Personality: Friendly, Playful, Affectionate, Curious, Funny, Athletic
ADOPT THIS WEEK'S PET OF THE WEEK FOR JUST $55 AND MENTION 106.9 THE RANCH. All potential adopters must fill out an adoption application. For more info about any pet featured, please e-mail Admin@thehsnc.org or call the Corsicana Animal Shelter at 903-654-4928.