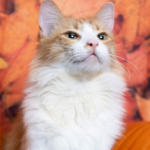 Meet Mustafa, a domestic long hair neutered male cat who is good with kids and is litter box trained. Mustafa is a feline royalty chosen to grace your life with elegance and love. With a name that means "Chosen," he embodies the regal qualities of a true aristocrat of the cat world. Mustafa's coat is a masterpiece, a lush tapestry of colors and patterns that's nothing short of breathtaking. He walks through your home with the grace of a king, leaving an aura of majesty in his wake. But beneath his regal exterior, Mustafa is a gentle and loving soul. He adorns your days with a quiet, yet profound affection that warms your heart. His purr is a soothing lullaby, and his presence, a constant reminder of the chosen bond you share. Mustafa is the embodiment of grace, love, and regal charm. He isn't just a house cat; he's your chosen companion, a noble presence that enriches your life with every elegant step he takes.
106.9 The Ranch Pet of the Week Brought To You By
ADOPT THIS WEEK'S PET OF THE WEEK FOR JUST $55 AND MENTION 106.9 THE RANCH. All potential adopters must fill out an adoption application. For more info about any pet featured, please e-mail Admin@TheHSNC.org or call the Corsicana Animal Shelter at 903-654-4928.