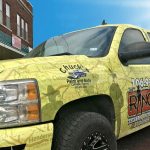 Look for 106.9 The Ranch as we hit the road passing out great prizes and sharing our love of Texas Music. Here's where you'll find us next…
JUNE 22 – 3pm – 5pm – Taylor's Smokehouse – Corsicana, TX
Get ready for some delicious BBQ and fun at Taylor's Smokehouse in Corsicana, TX as we broadcast live from this grand opening event! Stop by for your chance to win July Fest tickets, we'll be giving away a pair every 10 minutes.
JUNE 29 – 6pm – Josh Ward Live from Billy Bob's Texas – Ft Worth Texas
Listen to 106.9 The Ranch for the exclusive opportunity to ride the Big Tex Bus from Corsicana to Billy Bob's Texas to be a part of Josh Ward recording Live from the venue.
June 30 – 2pm-4pm –  Prince Fireworks – Corsicana, TX
We will broadcast live from Prince Fireworks in Corsicana with plenty of fun prizes!
July 7 – 5pm – 11pm – JulyFest – Gun Barrel City, TX
Whether you're coming for the music or the carnival, the fireworks or the food – July Fest is the greatest way to celebrate the Nation's Independence! See Koe Wetzel, Stoney Larue, Copper Chief and Tyler Stokes on stage as well as the largest fireworks display on Cedar Creek Lake! See y'all there!!!
July 14 – TBA – DD Steakhouse – Kerens, TX
DD Steakhouse is back, and sure to please! Come for the food, and hang around for the fun!
July 15 – 2pm-4pm – The HayBale Wedding & Events Venue – Scurry, TX
It is the first annual HayBale Wedding and Event Venue Bridal show and Expo and we will be there broadcasting live from the event!